There are plenty of things you can do and see in the Midwest, especially in Iowa. The Hawkeye State is home to top attractions, like the beautiful natural sights, quirky attractions and great breweries. But you don't want to stay just anywhere when you travel. Luxury hotels are the best option for ensuring a great trip. These are the five best hotels in Iowa.
1. hotelVetro
At this luxury hotel in Iowa City, you can expect only the best. From great customer service right down to the fine quality of the sheets, hotelVetro offers the best accommodations in Iowa. Customers always rave about how big and spacious the rooms are. Rooms are modern and perfectly equipped to meet all of your needs. Right in the perfect location, it's also the best place to stay on the big game day. It was also recently the filming location of an episode of Iron Chef.
This hotel in Iowa City is a must-visit if you want to soak in all the best attractions in Iowa City. You'll be just steps away from the city's best restaurants, museums and sights. The City Hotel has large, spacious rooms and modern furnishings. You can expect a good night's sleep when you stay here. The hotel even has some great amenities, like the modern gym and an outdoor patio.
This great hotel located in Coralville is highly recommended by all visitors. You can easily get to know other guests - and even locals - at the included breakfast and catered social events. The hotel is even minutes away from Carver-Hawkeye Arena, Kinnick Stadium and many other main attractions.
This four-star luxury hotel in Davenport is considered one of the best in the state of Iowa. You can enjoy modern, spacious suites and rooms equipped with flat-screen TVs. There is even a spa, bowling alley, bar and pool within the hotel. They also have some of the most comfortable beds i've ever laid in, guaranteed to make you sleep like a baby. Nightly social events bring in the crowds, where you can meet locals and other visiting tourists. As a guest, you'll get to experience top-quality service and highly rated amenities.
5. Heartland Inn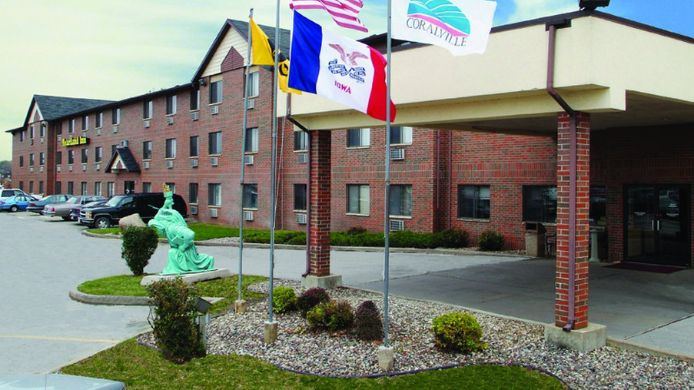 Want to make your stay even cozier? The Heartland Inn in Coralville is the best when it comes to peaceful luxury. Enjoy the simple, quiet rooms with large beds and soft sheets. A stay at a luxury hotel like this is essential to great travel. If you want a quiet stay, there are walking trails and bike paths nearby. If you want to travel around and explore the city, this hotel works as an amazing hub to the best destinations. And you can easily find great restaurants and bars just a stone's throw away.
The key to enjoying your trip is the hotel you stay in. Finding the best, luxury hotels will guarantee you enjoy your trip and get a good night's sleep. These five hotels are some of the best in the entire state. With their spacious rooms and large beds, it's not hard to see why. Keep these luxury hotels in mind next time you're planning your stay.
Cover Photo Credit: Alan Light