When it comes to fun and affordable summer getaways, the Centerville-Rathbun Lake area packs an outsized punch.
If you're like us, you can't stop the feeling that sunshine and long days are here at last. To make the most of your fleeting summer vacation, check out these Centerville-Rathbun Lake area attractions.
1. Hardcore Wildlife
Our "monster" walleye was only the most recent beast to garner national news coverage. (It's still out there, waiting to be turned into a real-life Billy Bass.) But that's not all our great outdoors has in store. Our whitetail deer are so epic, even the governor comes to Appanoose County for a shot at the action.
Need more evidence? What about this giant snake stealing a hooked fish. Not since the creation of the Mexican flag has an image of nature on the prowl so perfectly captured the essence of a region.
2. Surprising Foodie Culture
A pop-up restaurant in Centerville, Iowa? Check. Get it while you can. An ironically-themed food truck serving awesome food with names inspired by your favorite movies? Yep. Fruity Pebble cupcakes? We've got those, too. Fancy some trendy Thai rolled ice cream? Visit Ching Dow for this season's coolest treat. Like high-end cuisine and lakeside views? Take a dinner cruise on the historic Jon Anderson White Riverboat.
3. An Entire Day Celebrating the Best Breakfast Food Known to Humans
Pancake. Day. Just looking at past Pancake Day footage is enough to get you drooling.
Hosted annually since 1949, Pancake Day is a delicious ode to the breakfast food that Stone Age cooks, the ancient Greeks, and Thomas Jefferson all agreed was top of the stack. Do yourself a favor. Mark your calendar now: Pancake Day is always held on the last Saturday in September.
4. Wet Hot Iowa Summer
Everyone knows life is better by the lake. And we've got a couple to choose from. At 11,000 acres, Rathbun Lake is the obvious go-to for boating, fishing, swimming, and camping. The expansive Honey Creek Resort provides fantastic lakeside lodging options as well as an 18-hole championship golf course, recreational activities, and a restaurant.
The smaller and quieter reservoir at Lelah Bradley Park is the local's choice for fishing and hiking. Plus, the spacious cabins along the water's edge are a great spot for a family reunion, glamping-style. Prefer your water chlorinated? Head over to the Centerville city pool which features two waterslides, kid-friendly water features, and a classic, old-school high dive.
5. The World's Largest Square
Forget Times Square in New York City. According to locals, Centerville boasts the world's largest city square. If you ask around, some may elaborate on the claim with rarified terms like "continuous" and "town". But does it matter? The square is big, adorable, filled with shops, and the retro sign makes for great photo ops.
6. Fixer Flipper Picker-Upper Roadshow Paradise
Have your inspiration boards all set on Pinterest? Then head on down to make your dreams a reality. If shabby chic and vintage is your thing, don't miss the Southern Iowa Junk Jaunt, held in the spring and fall each year. Or, take your shopping to scale at The Shoppes at Bradley Hall, featuring four stories of shopping in an exquisitely maintained historic mansion, or The Gypsy Quarter, which has three floors of the latest home décor and clothing.
7. Event of the Century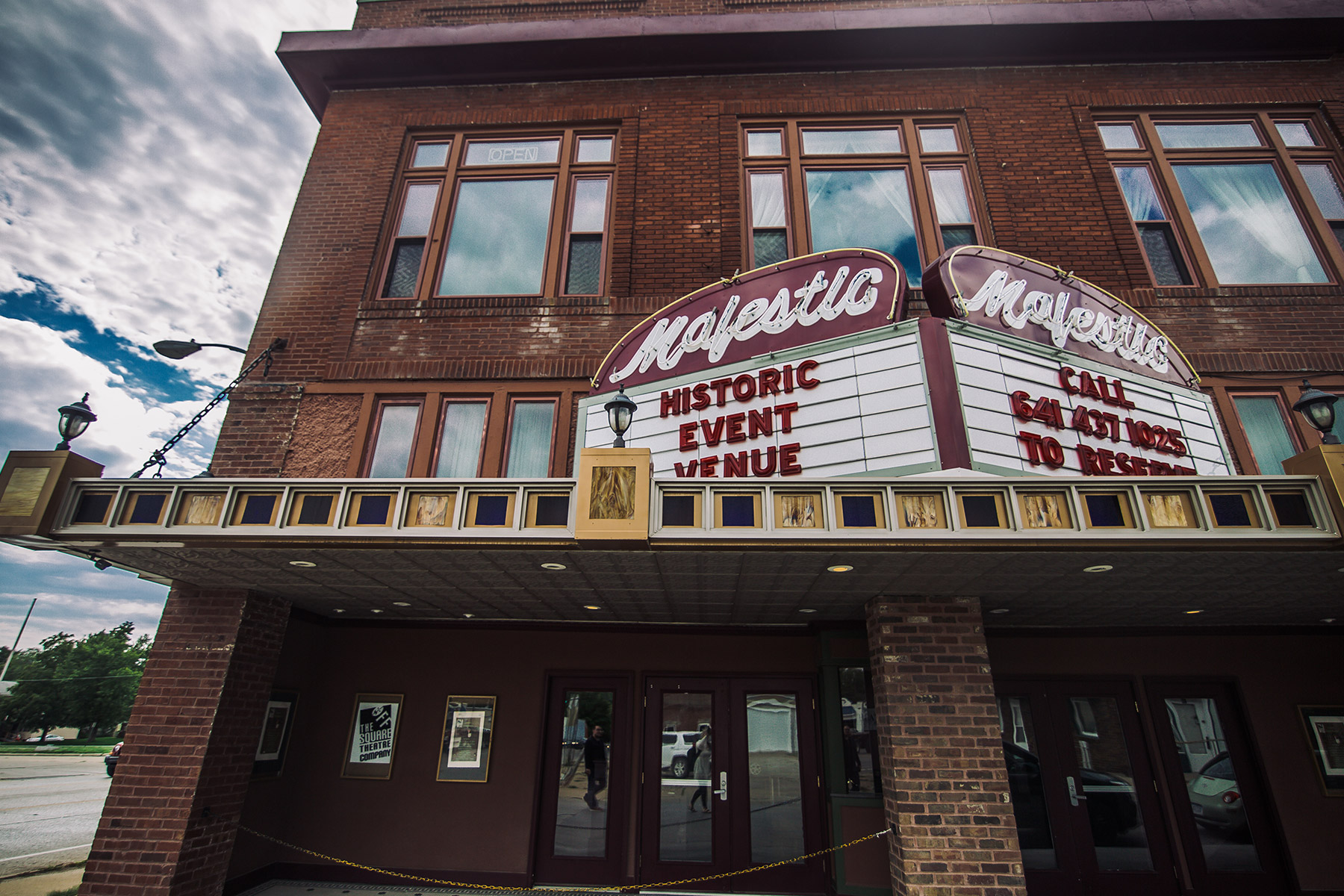 Forget Meghan and Harry. Host your own party to remember at one of our fantastic event venues. Both Bessie's Barn and the soon-to-open Valley View Events Center offer rustic charm at prices that will make you say "I do" to escaping the city. Always wanted to see your name in lights? The Majestic Theater is a unique choice for events with its historic theater and upstairs prohibition-style bar and ballroom.
Image credit: Alison Fraser